Summer Full of Color: Marie Jo Swim Launches New Collection with Inspiring Prints and Fabrics
Choose your favorite bikini or swimsuit from the Marie Jo Swim collection and complete your look with the perfect accessory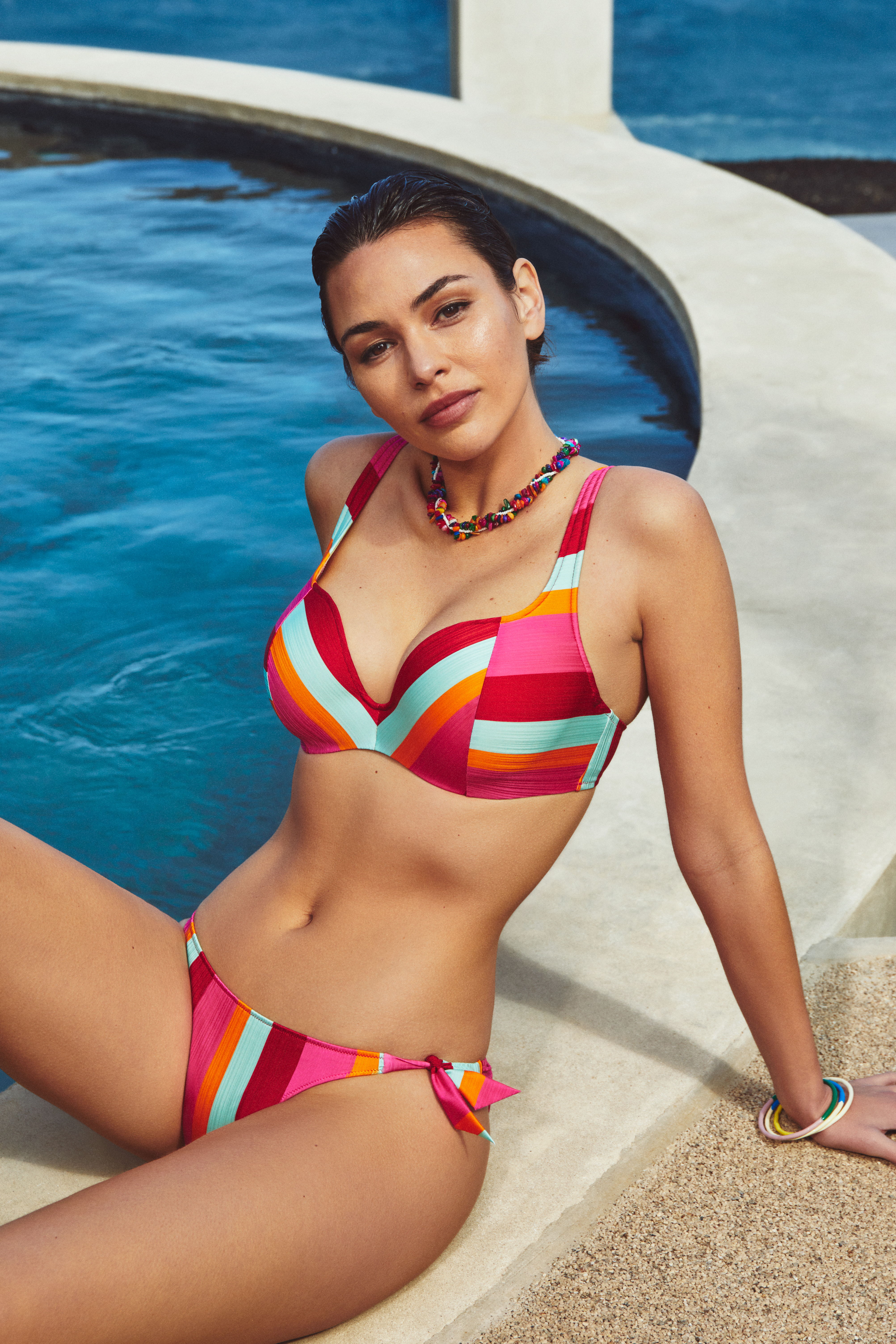 Summer: Time for Rest and Relaxation! If you've got the right swimwear, you've got everything you need to make your vacation a success. Discover Marie Jo Swim's latest collection – swimwear that'll make you look and feel radiant on the beach, by the pool, or at the beach bar. Get ready for eye-catching, fresh, and bright colors combined with prints and fabrics that are a little bit different. Want to add that finishing touch to your look? Mix and match your bikini or swimsuit with the ideal accessories. ​
To give you the perfect fit, we're releasing our Marie Jo Swim collection in the well-known styles of our lingerie range: full-cup, balcony, deep-plunge, and push-up. As the styles are the same, you can look forward to wearing your favorite lingerie style for your swimwear, or vice versa. Whichever one you choose, having the right fit to match your style and look is sure to make you feel extra empowered. That means twice the fun at beach or the pool!
Discover these trendy eye-catchers in the Marie Jo Swim collection:
You Can Never Go Wrong with Stripes!
An instant mood booster. With its combination of fun stripes, bright colors, and a flattering design, Marie Jo Swim Tenedos really does steal the show. The series comes in different styles, such as a padded triangle or padded balcony. Prefer a one-piece? Be inspired by the special swimsuit with a low back and deep plunge.
Long Live Off-the-shoulder
Dazzling in bright fuchsia: Marie Jo Swim Maiao is a bold, youthful series that grabs the attention. Designed in a trendy fabric with a subtle texture, the series is finished with a gold detail along the straps. The biggest eye-catcher is the off-the-shoulder bikini, inspired by the popular catwalk look. A must-have if you want to be totally on trend with the latest in fashion.
Cool and Sexy Animal Prints
The animal print is back (although it never really left). If you're a fan, check out Marie Jo Swim San Domino: a combination of class with a fun twist, thanks to its shiny snake print.
Prefer a mixture of colors? Marie Jo Swim Minorca has been designed in a seductive mix of three animal prints and blue straps. It's equal parts sexy and cool!
It's All In the Details
If you love details, then Marie Jo Swim Crete is the gem you're looking for. The series' features an eye-catching glossy print and shimmering fabric, plus pearls as a special touch. With the same cut at the front and back, the swimsuit emphasizes your open back and cleavage.
Navy Style – Reinvented
Thanks to an inspiring combination with lurex in bronze, Marie Jo Swim Saturna is taking the timeless blue navy style to a new level. The gold ring that's been added to the series offers an extra bit of glam. Saturna's signature luxury look gives you style all day long.
Mix and Match with Accessories
The right accessory will complete your swimwear look. Explore our collection of short and long dresses, shirts, skirts, and pareos that you can mix and match with your bikini or swimsuit. These feel-good accessories will be your guard against those fierce sun rays or chilly breezes. What's more, you decide which natural shapes you want to accentuate. Bring on a summer full of self-confidence!