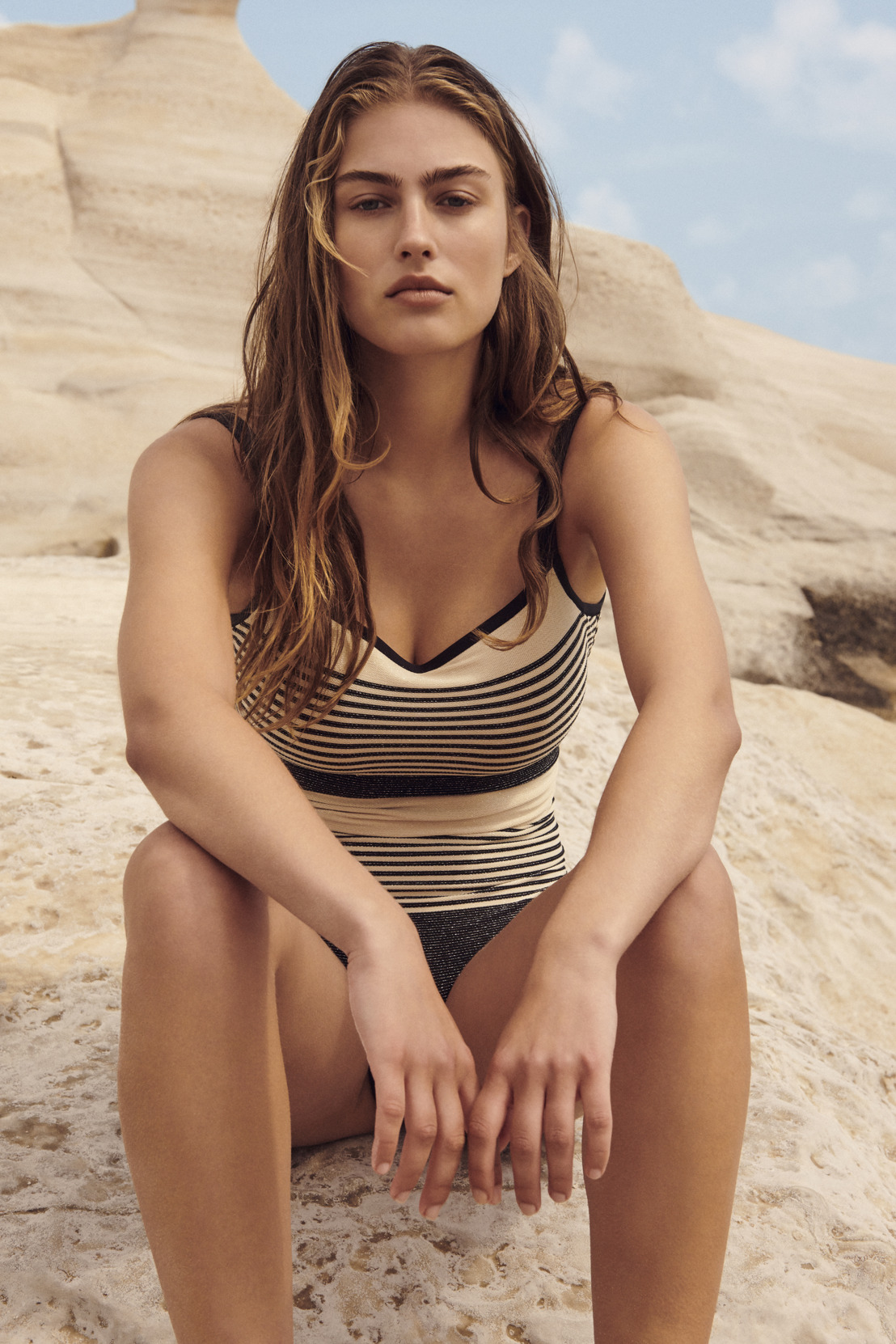 Marie Jo Swimwear Cruise Collection: Luxurious Silhouettes, Inspired by Seventies Chic
Chasing the sun... And we mean that literally this winter: the Marie Jo Swimwear Cruise collection will take you to warmer climes with a series of premium designs influenced by that stylish seventies vibe. The collection is a real ode to the femininity and elegance of the decade. Merle leads the show and is a source of inspiration, with her graceful cut, sophisticated details, and perfect fit.
Luxurious Interplay of Lines
You say the seventies, we say stripes. And Marie Jo Swimwear does love stripes – but in a fresh, premium version. So, meet Merle: a classy, modern design with a stunning striped print. The alternating size of the stripes gives the print a unique, high-end twist that's further enhanced by the luxurious fabric. One great detail is the soft fabric, interwoven with lurex to offer an understated shimmer of gold.
The eye-catcher in the Merle series is the stylish swimsuit, which stands out thanks to the elegant mix of the luxurious fabric with the clean lines of the refined cut and the fresh, striped look. Take your beach look to the next level with the matching kaftan: a stylish celebration of all things summery.
Designer of Marie Jo Swimwear: "Our cruise collection draws on the graceful, feminine silhouettes of the seventies, with elegant cut-outs, luxurious details, and timeless cuts. The result is a premium swimwear collection with a fundamentally stylish, feminine soul."
Another eye-catcher is the triangle bikini, featuring a new and super-feminine Marie Jo cut. Combine with the flattering high-waist briefs and wear the matching hairband to create an authentic seventies-inspired look.
Elegant Black or Color Splash?
Is there anything more chic than stylish, black swimwear? Blanche in elegant black combines a graceful design, luxurious details, and a perfect fit. The super-feminine cut-outs and the plait detail under the breasts emphasize the timeless character of this series.
The Marie Jo Cruise collection also adds a touch of color with fresh, feminine shades of pink. Esmee stands out with her summery pink color palette and chic, graphic print. Aurélie in on-trend fuchsia pink is an easy-to-wear, playful design that couldn't be more feminine. It's an essential!
Marie Jo Swimwear Cruise Collection: available from December. Find your nearest lingerie shop at mariejo.com.
Go to our media gallery for more images.
Vanessa De Vuyst Media & PR Manager, Van de Velde