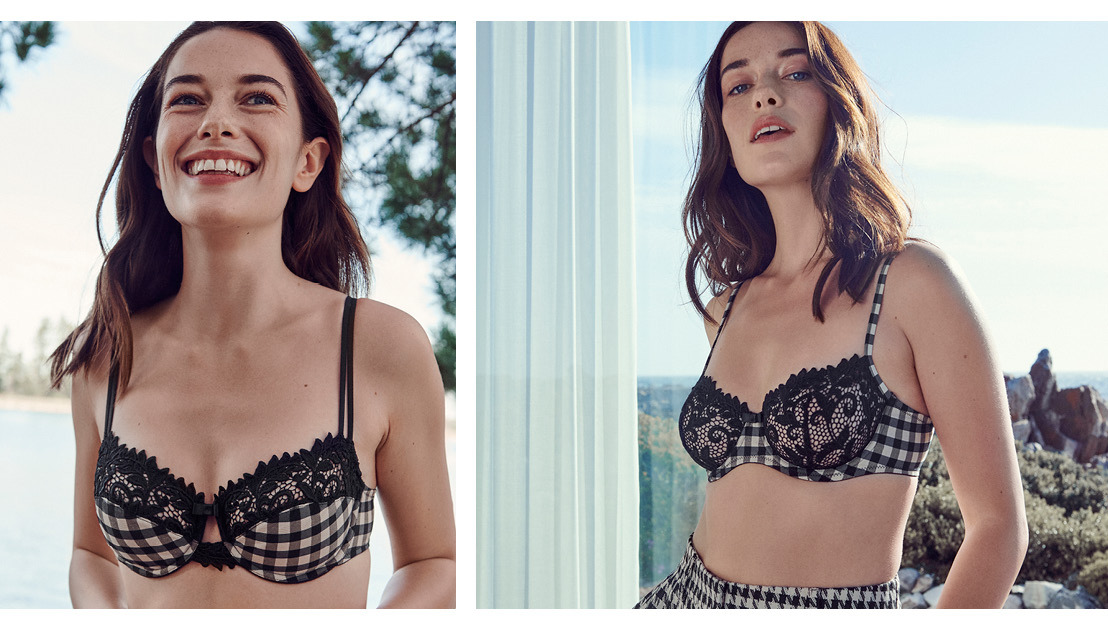 Marie Jo AW20: Discover the six must-have lingerie trends for fall!
Marie Jo understands what custom lingerie tailored to a woman's individual style and silhouette can do. The trendy and comfortable designs by this Belgian lingerie brand exude elegance and help you face the little challenges of everyday life! This season, our designers drew inspiration from art, architecture, and design to translate the latest fashion trends into a bold and exciting collection.
MARIE JO
Checks? Check!
Checks get a modern update this fall. By pairing this timeless print with opulent lace, Marie Jo has created feminine lingerie with a retro twist. This season's undisputed eye-catcher is the Marie Jo Ely series, which combines checked fabric in black and off-white with guipure lace from Calais, the lace capital of the world.
Shiny happy lingerie
Add some glam to your fall looks. Shimmery fabrics and embroidery are the common theme in this collection. Marie Jo's bestselling Avero series was given a makeover in trendy bronze. Even the daisies on the straps have an irresistible sparkle to them! Time to shimmer and shine!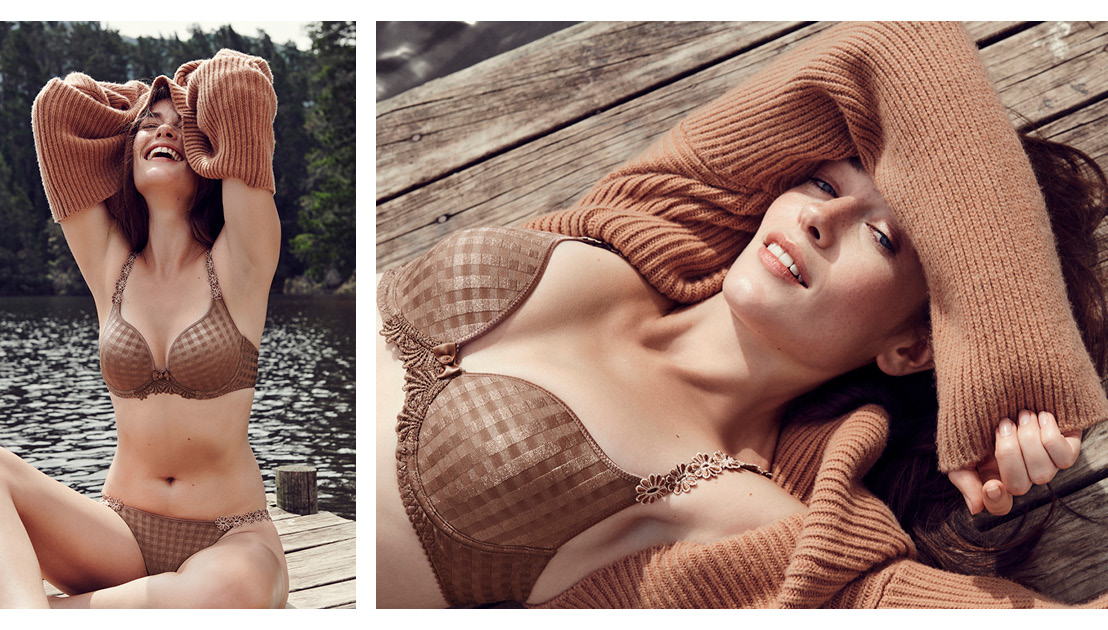 More is more
Looking for the perfect cure for the winter blues? Ultra-feminine lingerie with baroque prints and colorful embroidery is just what you need to boost your mood and your wardrobe. If you prefer classic black lingerie, opt for an elegant look in this color as well. With delicate Leavers lace and sheer tulle, Marie Jo Anna is the undisputed gem of the series. The perfect little black bra does exist!
It's party time!
To ring in the New Year in style, Marie Jo is releasing a unique limited edition of its bestseller Avero. With its shimmery, gold-colored checked fabric, this showstopper puts the finishing touch on the 100th anniversary year of parent company Van de Velde. The daisies on the straps are adorned with gold-colored sequins to create the perfect party look!

MARIE JO L'AVENTURE
Warme winter hues
Immerse yourself in this season's warm winter colors. Cinnamon is the perfect bronzy shade for fall. The sporty-chic Marie Jo L'Aventure Helmut series in black, which stole hearts this spring, gets a stylish makeover in this hue. Bronzy cinnamon will give you a warm, flattering glow. A must-have in your lingerie drawer...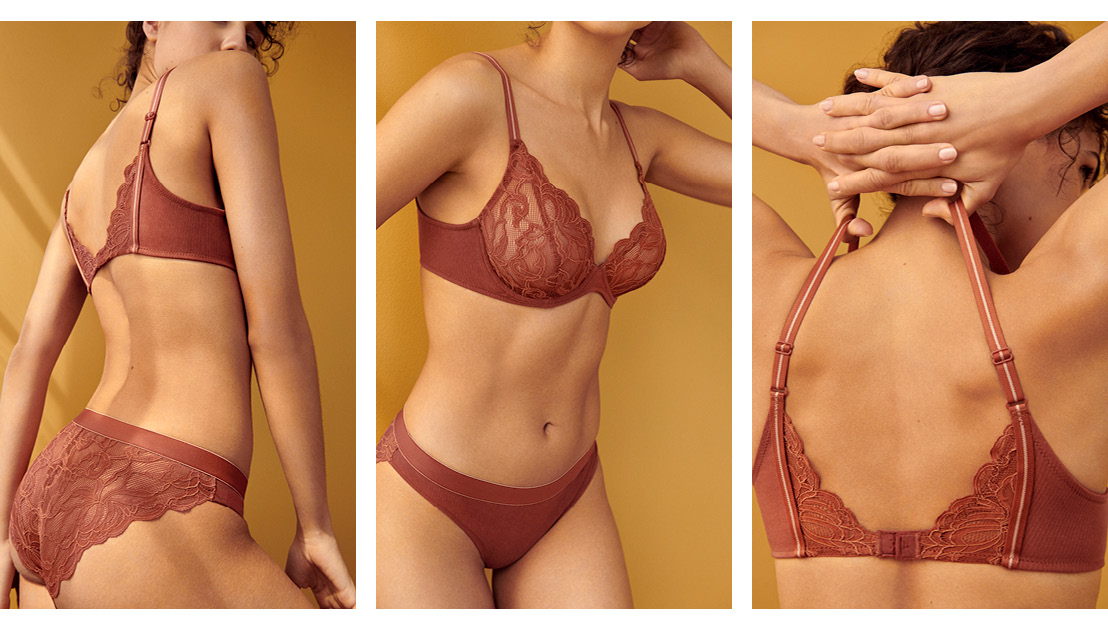 Animal prints 2.0
Animal prints are hot this season, in both fashion and lingerie! This fall, our designers have put a new twist on this animal theme. Say goodbye to boring leopard and hello to stylish reptile prints and modern panther prints with a chic glitter-effect. The Alexander series by Marie Jo L'Aventure also includes a unique and luxurious embroidered animal print, crafted by the same Swiss embroidery experts that created the Marie Jo Avero flowers. This is quality design at its finest!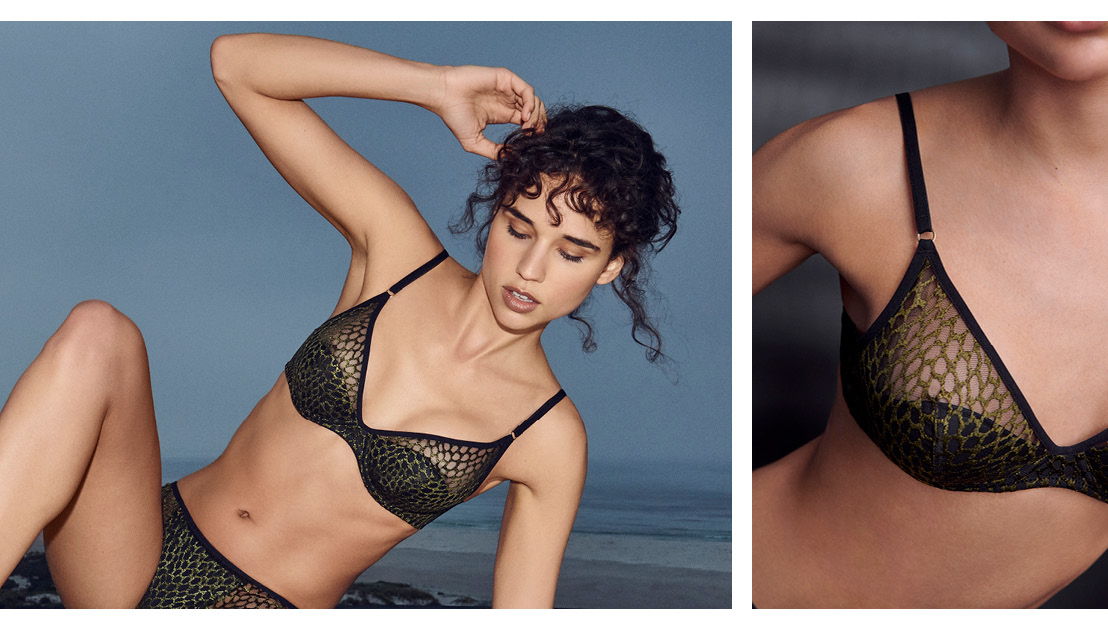 Find your nearest store at mariejo.com.
Click here for more images of Marie Jo.
Click here for more images of Marie Jo L'Aventure
Vanessa De Vuyst Media & PR Manager, Van de Velde