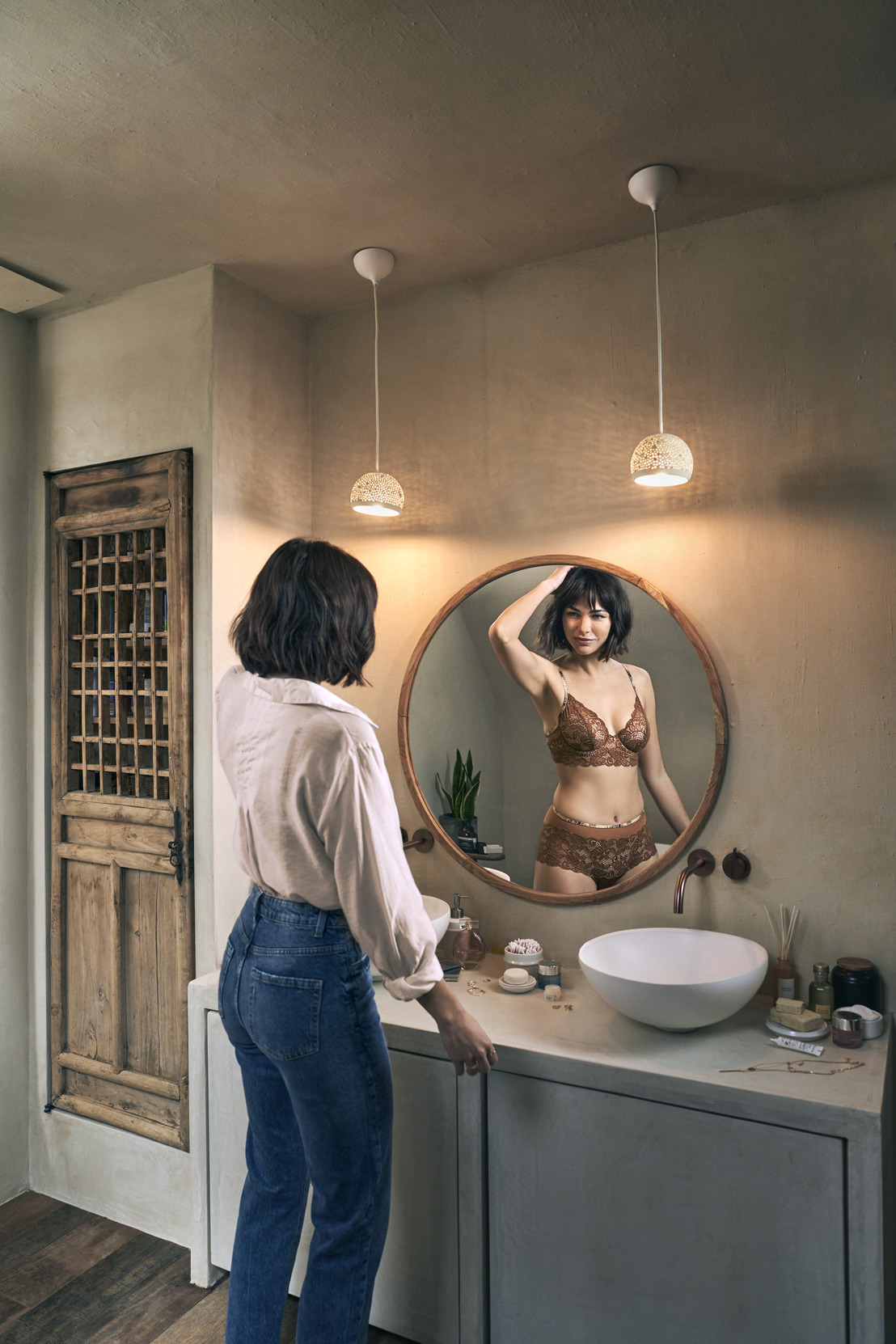 Marie Jo | My Invisible Force
At Marie Jo's we thought the brand's 40th birthday is a the perfect momentum to bring something new, besides the new Fall-Winter collection. The heart of Marie Jo is to be surprising in our designs, as in the materials that we use as well as we aim to surprise women with our perfect fit. So, why not be surprising in the way that we talk about our brand, then a non-cliché lingerie campaign was born: Marie Jo | My Invisible Force.
The idea started with questioning our consumers and listening to them. We often ask women how they feel in our lingerie, and their answers inspired us to look at our campaign images from a whole different angle: what do you see and feel when you are wearing Marie Jo and you look in the mirror?
A shortlist from the answers from our Marie Jo customers:
"It makes me feel good about myself, and I feel I look more confident when I am wearing Marie Jo."
"Marie Jo makes me feel comfortable and self-confident."
"It makes my clothes look better, maybe other people don't see it, but I notice it when I look in the mirror."
"In this set, I feel like I can handle anything, it's like a little powersuit underneath my outfit."
"In Marie Jo lingerie I feel more feminine, it feels like it gives me an invisible strength."
Listening to women, truly understanding them, and always putting their best interests first in our designs, is what makes us Marie Jo.
It is not a cliché lingerie campaign.
There is no lingerie model lying on a bed, looking sensually into the camera. Instead, you see a self-assured woman, who is fully (and fashionably) dressed, looking at her reflection in a mirror, happy with what she sees. These campaign images aim to surprise women and put a smile of recognition on their face. Because we women can all relate tothese intimate situations in which we quickly glance at our reflection in a mirror or a window before we leave the house, enter the office or get out of the car.
The images capture the feeling that wearing a Marie Jo set gives a woman. You see a fully dressed woman who looks into the mirror and sees herself in lingerie. It is an intimate moment. She is alone, not trying to please anyone else butherself. She looks happy with what she sees, self-assured and empowered. She sees and feels the effect of her Marie Jo lingerie both on her body and her mind. It is her 'invisible force'.
It's all about the power of Marie Jo lingerie in a way that women can relate to.
For this FW-season launch we have created two main visuals of these relatable situations in which our key series Marie Jo Joy and Marie Jo Amalie are featured. Two lingerie sets that embody the essence of the brand: surprising designs, refined details all over and various styles to flatter every type of bosom. The Marie Jo Amalie longline is the star of the series with it's modern look and print clash, it makes this serie the must-have of the season.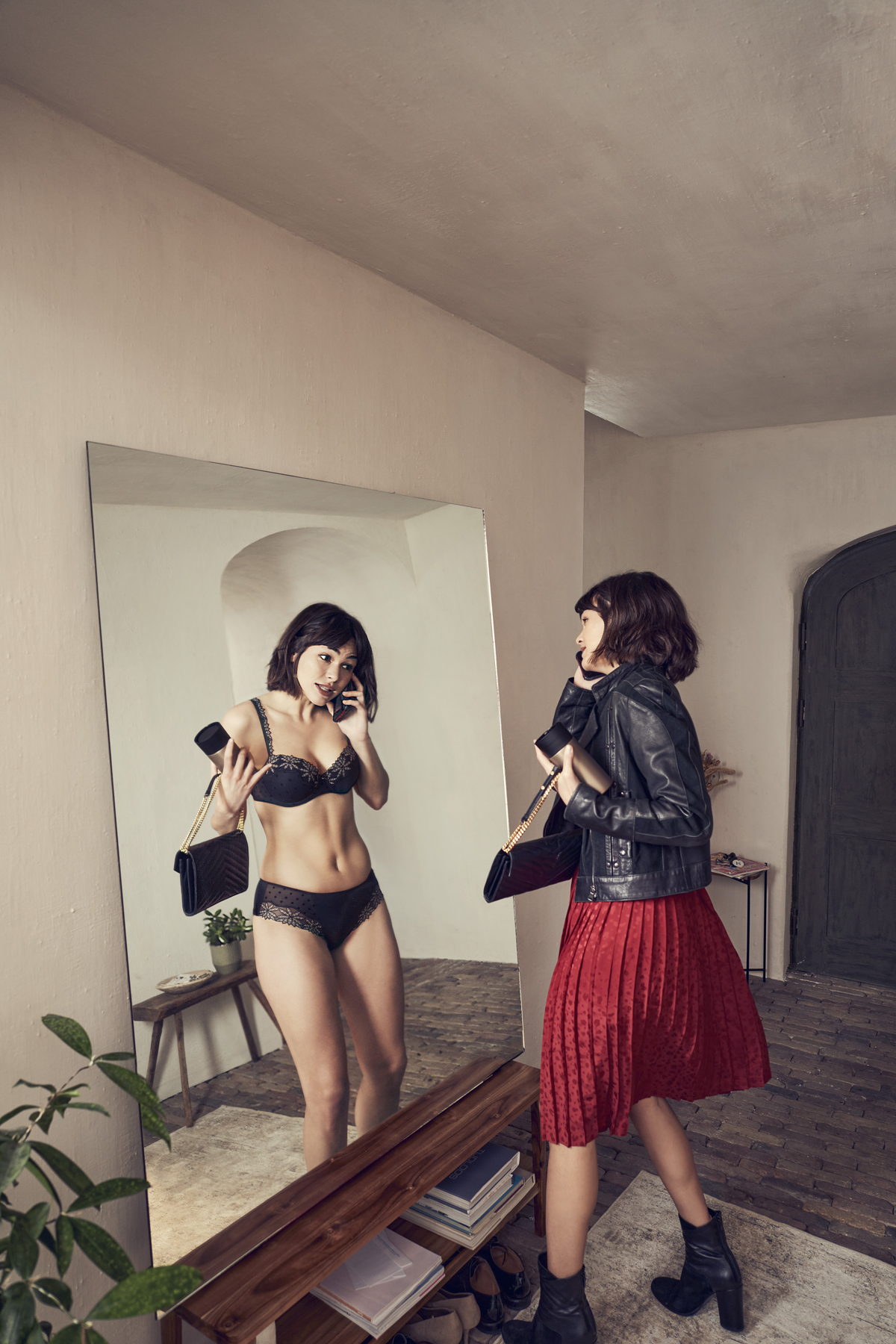 Next to these visuals, Marie Jo will also launch its emotional layer. In this content type we will give the stage to true Marie Jo lingerie lovers and let them talk about their love for lingerie and how lingerie makes them feel. These short video's will be shown in our social media campaign and will emphasize exactly that where the entire campaign stands for. Farah El Bastani sets the tone in our first My Invisible Force video, in which she explains what Marie Jo lingerie means to her and why she is a brand lover since the beginning of her lingerie past. Her experience with Marie Jo is what My Invisibel Force is exactly all about:
"Wearing a matching well fitted lingerie sets, gives me that extra little power and sparkle, which I can feel during the day, tackling the rush in the morning but also during my job" - Farah El Bastani
Vanessa De Vuyst Media & PR Manager, Van de Velde