FW21 - Marie Jo is bringing Gustav Klimt's muses to your lingerie drawer
Delight in the gorgeous fabric combinations, the unique take on lace and embroidery, and the elegant details in Marie Jo's lingerie series. For the fall collection, our design team drew their inspiration from the works of Gustav Klimt. His rich color palette and detailed fabrics were translated into an elegant lingerie series in warm earth tones with a luxurious high-gloss effect.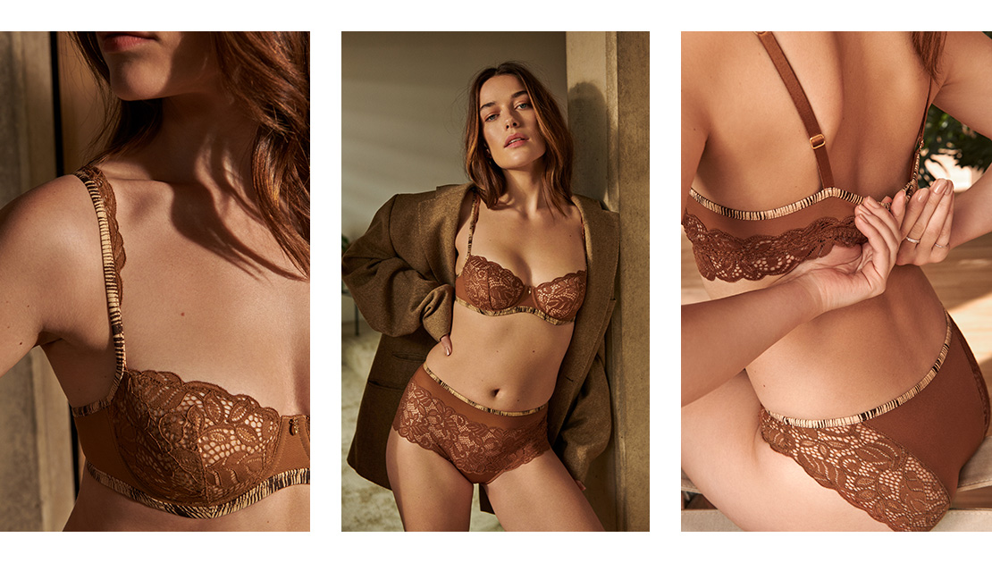 The new fall series was named after Klimt's muses, such as Serena, Amalie, and Danae. His innovative and sensual view of women is an excellent reflection of the current spirit of the times, in which women inspire each other. Discover Marie Jo's unique designs that boost confidence with their incredible fit, unrivalled comfort, and chic looks in warm earth tones.
Marie Jo Amalie: A combination of animal print and couture lace
This season's undisputed eye-catcher, Marie Jo Amalie combines an edgy animal print with couture lace. With a range of styles, this series has something for everyone. The longline underwire bra is the new on-trend style, with the look of a bralette with underwire for an elegant, rounded shape. The matching briefs with opulent lace are sensual, silky-soft, and invisible under all outfits.
Marie Jo Joanna: Captivating botanical print
An opulent floral print is sure to brighten up your lingerie drawer. Marie Jo Joanna is flattering khaki-colored lingerie with a flirty interplay of sheer fabric and layers of colored floral embroidery on laser-cut tulle. The purple hues and gold accents add a sophisticated touch. This is flower power like you've never seen it before.
Marie Jo Serena: Luxurious lingerie in stylish chestnut brown
Earth tones are the ultimate fashion trend for fall. Marie Jo Serena combines a warm chestnut color with rich, bronze-hued embroidery. The elegant details, such as the bow and the pendants, add a luxurious touch to the designs.
Marie Jo Danae: Party-worthy lingerie for the festive season
Who says lingerie can't be both sensual and comfortable? Marie Jo Danae is feminine lingerie with layers of chic embroidery and tulle. The combination of delicate embroidery on tulle gives these sets an innovative look. This festive series includes three bras and three briefs, meaning there's something for every shape and size. Accentuate your curves with edgy high-waisted briefs and a flirty triangle bra for a party-worthy look with a hint of lace!
Marie Jo Jane: Subtle sparkle
Glitter and high-gloss shine are totally on-trend. Marie Jo is giving its iconic Jane series, which is known for its incredible fit and looks, a fashionable make-over in a trendy rust color with sparkly floral embroidery. Cozy lingerie with a sparkle!
Want to discover the collection? click here.
Find your nearest store at mariejo.com
Vanessa De Vuyst
Media & PR Manager, Van de Velde