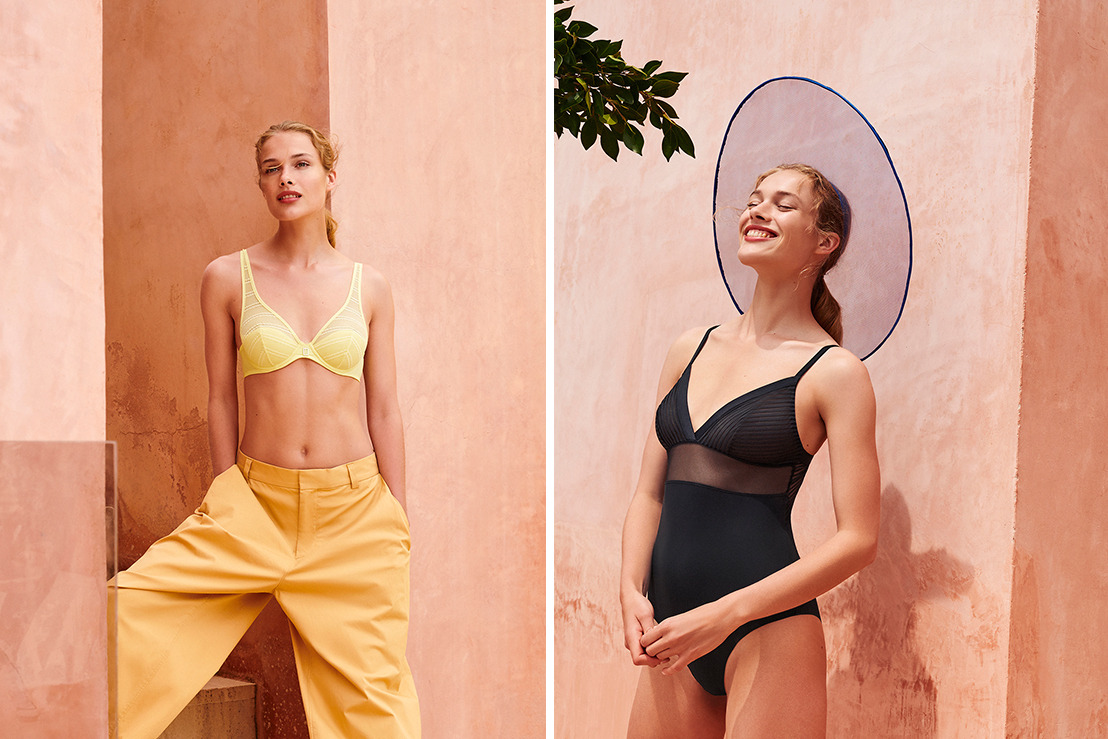 From the catwalk to the lingerie drawer: how to translate the SS19 trends
The Marie Jo Style Guide
The Belgian lingerie label Marie Jo caters to every self-confident woman who wants to make a powerful yet refined statement. This summer, Marie Jo will once again be presenting designs that are as comfortable as they are fashionable. So how can you translate the SS19 trends from the catwalk to your lingerie drawer? Find out how in the Marie Jo Style Guide and embrace every aspect of the day.
Pretty in pastel
One of this season's trend colours is light blue. Gala combines this pastel colour with French allure: exquisite lace by lace specialist Noyon. You, in turn, combine Gala with a feminine dress in a flowing fabric, preferably in a matching shade of light blue.
Pink is the new red
Pink is the new red. Francoise proves it beyond doubt with a set in coral pink, tipped to be the number one SS19 summer colour. Marie Jo's styling tip: incorporate Francoise into a classic look, like a satin dress or pair of trousers, or make a powerful statement by wearing Francoise under a power suit. Combine power and romance for a perfect fit!
Sporty chic
Sporty chic was the biggest trend last season, and is also finding its way into your lingerie drawer this summer – thanks to Salvador. The ultimate styling tip? Combine the Belgian lingerie label's want-to-be-seen triangle bra with a semi-transparent top and a leather skirt to give your outfit the perfect finishing touch. Allow Salvador to make a subtle yet perfect contribution to your power outfit.
Poppy colors
Poppy colours will be dominating this summer's fashion, with a light, buttery shade of yellow in first place. Put Charles – with its lace, striped pattern, and comfortable fit – in the spotlight with a nonchalant, elegant outfit like a gracefully flowing light yellow dress or a pleated skirt with a ditto yellow top.
Find out here how Marie Jo ambassadors Yara Michels & Paulien Riemis translate the SS19 trends from the catwalk to their lingerie drawer.