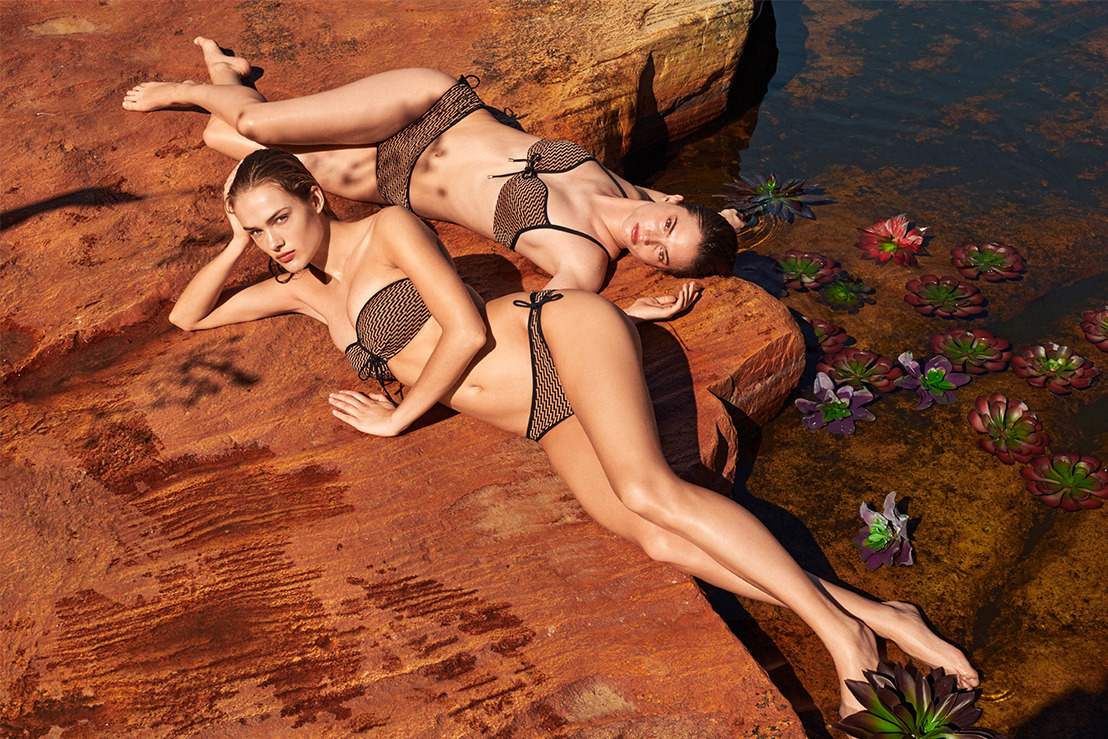 Following its unprecedented success: Belgian lingerie label Marie Jo launches its second swimwear collection
Do you go against the current?
The Belgian label Marie Jo revolutionized the lingerie world in 1981 by offering women beauty and comfort combined. In the summer of 2018, Marie Jo once again brought about a revolution in fashion with its first collection of swimwear designs that are as comfortable as they are fashionable. "Consumers were clearly looking for this unique combination in swimwear. In addition, we reached a larger target audience – with the help of a 360° campaign – and as a result created a new group of ambassadors," says Mark Lebouille, Head of Commercial. Following the unprecedented commercial success of their first line of swimwear, which was awarded a MarediModa Creative Excellence Award, the Belgian market leader in lingerie is now heading towards the summer of 2019 with a second collection of stylish bikinis and swimsuits.
No fewer than 116,000 women can be seen by the pool or on the beach wearing an item from the very first swimwear collection. This is proof of immediate confidence in the collection. Catherine was the most popular series in the summer of 2018, with 16,000 women purchasing a Catherine bikini. The balcony padded top in the range was particularly popular. This proves that consumers are not only looking for items that are stylish, but that they also consider a comfortable fit a priority. Of the total number of Catherine items purchased by partners, 23% featured this particular cut. The Rio bikini briefs also did very well with 21%. "Our partners are very familiar with the market and know exactly what is going on. They form part of the success story and highlight what distinguishes Marie Jo Swimwear from other swimwear brands: beauty and unique comfort combined," Lebouille emphasizes. What are the other factors behind the label's commercial success? Mark Lebouille explains. "We strongly believe in seeing and being seen, which means that we want to appeal to both existing and potential new customers."
"We believe in seeing and being seen: Appealing to existing as well as new customers" Mark Lebouille – Head of Commercial, Marie Jo
In the summer of 2018, the Belgian lingerie label made use of all available online and offline channels, in conjunction with a modern media mix. What was the purpose? To create visibility and appeal to a new group of inspiring women. This has been achieved with the label's very first swimwear collection, according to the Belgian Marie Jo ambassador and internet adventurer Paulien Riemis. She describes the 360° marketing approach adopted for the first swimwear collection as refreshing, youthful, and more personal than earlier launches. Paulien Riemis explains. "The launch created a huge amount of online visibility. Since the launch, it has become clear that a young group of Marie Jo ambassadors has emerged that encapsulates the unique signature of the Belgian label in a refreshing way."
"The Marie Jo Swimwear launch was refreshing, youthful, and personal" - Paulien Riemis - Marie Jo ambassador & internet adventurer
The second swimwear collection by the Belgian label also consists of stylish bikinis and swimsuits that were tested and perfected by women in the label's own ateliers, the beating heart of Marie Jo. "Although you do notice a greater degree of maturity in this collection," points out Lieve Vermeire, Head of Design at Marie Jo. With this collection of timeless must-haves, the Belgian fashion house pays tribute once again to iconic personalities such as Monica Bellucci, Ornella Muti, and Brigitte Bardot: Personalities who ignored the rules dictated by convention and who left an indelible mark on an entire generation by never ceasing to follow their feminine intuition and by sometimes going against the current. "Add to this a bold dose of elegance and the result is an impressive second swimwear collection that offers precisely what Marie Jo customers are looking for."
What is your favorite item in the SS19 collection? Lieve Vermeire and David Dupont, Marie Jo Swimwear designer, are in complete agreement: Monica is the statement piece of the second swimwear collection. The lingerie label has translated the boldness of Monica Bellucci's personality into an exceptional swimwear set created by women, for women. In this way, the Belgian fashion house pays tribute to a style icon who always followed her intuition and dared to go against the current, just like the Marie Jo Swimwear target group. Do you go against the current?
"Monica is the statement piece of the second swimwear collection"- Lieve Vermeire & David Dupont – Design Marie Jo
These are the favorite designs of the Marie Jo fashion experts
Tiany Kiriloff- Belgium: "Feminine and elegant, yet alluring. That's how I would describe Ornella, my favorite design in this collection. Ideally, I would combine the low-cut triangle swimsuit with the iconic Ornella dress from the same series. It is completely my style!"
Nicole Huisman- The Netherlands: "The Ornella swimsuit from the SS19 collection is my ultimate favorite. When it comes to swimwear (or anything from my holiday wardrobe in fact), I think it is important to be able to create endless combinations and to be able to wear the outfit on many occasions. This  sophisticated swimsuit, with a subtle sparkle for a more playful touch, offers the perfect solution – it looks beautiful on its own, goes well with high-waisted trousers and a jacket, or creates a more casual look with my favorite jeans. I like to wear a lot of color and as the Ornella swimsuit is darker, I can combine it with color and prints to my heart's content."
Karen Fleischmann- Switzerland: "My absolute favorite from the second swimwear collection would have to be the statement piece of the collection: Monica. The monochrome color and luxurious fabric of Monica will form a match made in heaven with my darker skin this summer."
Rabea Schif- Germany: "As I can't choose a favorite from the swimwear, I will go for one of the accessories. The Donna shirt in Chambray combines casual with smart whilst also having that boyfriend shirt vibe that I love. I consider the shirt a real must-have item to wear over your swimwear on the beach this summer."
Click here for more images.