Always picture-perfect in Marie Jo Swim!
Three fashion stylists show you how to style your bikini or swimsuit to your vacation and the occasion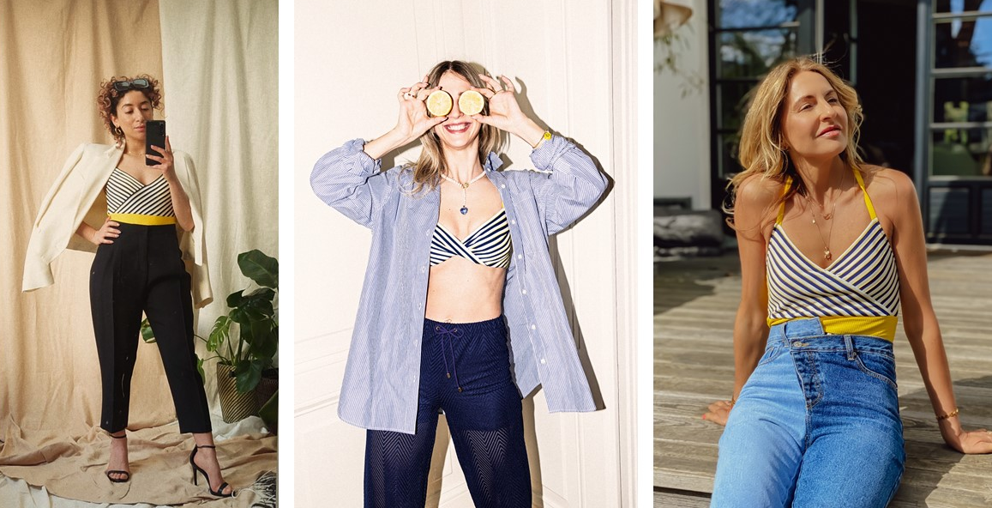 Looking for swimwear that's perfect for your holiday destination and the occasion? Marie Jo asked three stylists for their top tips. Choose a swimsuit or a bikini that fits like a dream and that can be styled to create a trendy look that will take you from the beach to the beach bar. This summer, find the perfect swimwear that flatters your figure and learn how to style it for a picture-perfect look at any time and any destination.
With summer just around the corner, we're dreaming of sun-drenched vacations. Whether you plan to relax on the beach, rent a house with friends in the middle of nowhere, or camp out in your own backyard, Marie Jo Swim has the perfect swimwear to give your confidence an instant boost.
Ultimate styling tips from the experts
Three talented fashion stylists share their tips on styling Marie Jo swimwear. ​
Amsterdam-native Isaa Geeratz loves playful styles. She shows you how to transform Marie Jo Swim Fernanda from an office look to a beach look in no time so you can enjoy the last of the summer sun as soon as you clock out for the day. Marie Jo Swim Fernanda captivates with flattering stripes in warm rust and crisp white.
Sue Giers, fashion blogger and stylist from Hamburg, inspires many women every day with styling tips on her online platform "SoSue". For a comfy look, she combines the flattering stripes in fashion shade rust and fresh white from Marie Jo Swim Fernanda with a cosy knitwear cardigan.
The clothing racks of Belgian stylist Farah El Bastani are invariably filled with a gorgeous mix of colors and textures. She knows like no other how to style swimwear as daywear for an Instagram-worthy look that will take you from the beach or pool to the cocktail bar or market. Farah shows you how to style the Marie Jo Swim Rosalie bikini as a subtle eye-catcher with muted, neutral hues. For a statement beach look, go all the way with the cheery green polka dot print of Marie Jo Swim Rosalie.
Sue wears the Marie Jo Swim Rosalie bikini top in combination with stylish highwaist pants in terracotta. Add your favorite handbag and your statement look is ready!
Love stripes and flashy colors? Marie Jo Swim Manuela radiates happy vibes with white-and-blue stripes and bright yellow accents. Stylist Farah shows you how to create an office-worthy outfit with the cache-coeur look of Marie Jo Swim Manuela. Isaa pairs the bikini with the trendy blue crochet pants for the perfect beach look. Just add an unbuttoned blouse and you're ready for drinks at the beach bar! Sue combines the Marie Jo Swim Manuela with her jeans.
Like animal print? Then you'll love Marie Jo Swim Amanda! This swimwear exudes glamour. The mix of two animal prints and shiny sequins adds a trendy and bold touch. Isaa pairs the bikini with an outfit in stylish earth tones for an elegant evening look!
Sue goes all the way for glamor and combines the Marie Jo Swim Amanda swimsuit with a shiny black satin shirt. She adds sunglasses in the same shades to complete her look.
Style and confidence guaranteed
Get inspired to elevate your vacation outfit. Mix and match your swimwear with the right accessories, get inspired by Isaa, Farah, and SoSue, and create a bold and stylish look.
More images
Find your nearest store at mariejo.com
Vanessa De Vuyst
Media & PR Manager, Van de Velde